CHERRIES: A DAILY DOSE OF ANTIOXIDANTS
Cherry season is upon us! Throughout the summer, the produce bins at Sprouts will be piled high with bags of the crimson beauties (and maybe some yellow-pink Rainiers, too) A popular seasonal favorite, we carry the best quality and variety of cherries—just for you! Aside from their sweet tang and portability, cherries also happen to have one of the highest levels of antioxidants of any fruit, about the same as blueberries. Antioxidants help to counter damage done to our cells by free radicals.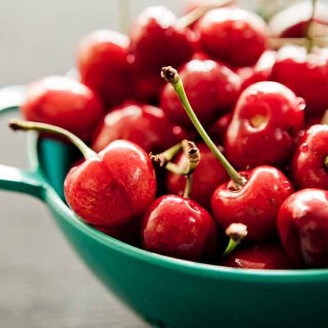 HOW TO PICK THE BEST CHERRIES
How to Pick the Best Cherries When picking Bing cherries, look for large, firm fruit with a deep red-to-burgundy color. Rainier cherries should also be large and firm with yellow and red blushed skin. Brown spotting on Rainier cherries usually indicates higher sugar. Avoid cherries of any variety if the skin is soft or blemished or if they are sticky and leaking. While most of us know cherries as a snack or ingredient in pies, tarts and other desserts, their sweet tartness makes for a great addition to savory dishes. Cherries are also delicious when pitted and dried, adding a delightful texture and flavor when added to salads.
HOW TO PIT A CHERRY—THE EASY WAY
While it's hard to find fault with cherries, the pesky pit can get in the way. You can purchase a pitter at kitchen specialty store or try this easy hack. To get started, you'll need a drinking straw and favorite variety of cherries. Remove the stem and simply, press the straw through the base of the fruit and push the pit out—so easy!