Weekly Meal Prep Made Easy
There are a lot of benefits to meal prepping in order to create multiple meals or snacks for the upcoming week. It can reduce stress, save time and money, and help you and your loved ones eat healthier. Think of having lunches already prepped so you don't have to spend time making them every morning, or stress about what you're going to make. Not buying a lunch every day is easier on your wallet as well! And, it's so nice to come home knowing what's for dinner because it's prepped and ready to cook in a jiffy.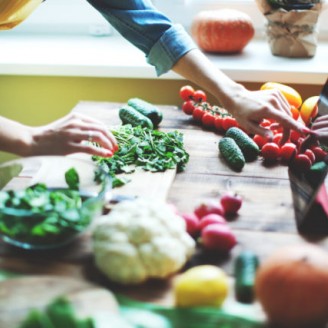 WHERE TO START
Start small so you don't feel overwhelmed. Picking something easier like snacks or breakfasts as a place to start your meal prep practice means you're more apt to continue the new routine. Once you get the hang of it, you'll be ready to take your meal prep to the next level adding lunches and dinners. Two super-easy make-ahead breakfasts you can try are overnight oats or chia pudding (insert link)- both are packed with protein and nutrients.
PREPPING YOUR MEALS
The beauty of prepping is all the time you will save. In most cases, you can make multiple meals in about the same amount of time it takes to make just one. And, while you're planning meals, think of those that can be frozen and reheated later. Making more than usual will leave you with dinners you can freeze for another busy week. Cooking a big batch of rice, portioning into freezer bags and freezing it is a great way to shave cooking time off weeknight meals for a fast stir-fry, fried rice or simple side dish. You'll thank yourself later for thinking ahead now!
PLANNED OVERS
This practice is another way to ease your way into meal prep. When you're making the evening meal, simply make extra. You can pack up the leftovers in reusable containers ready to take to work or pack for the kids. Tah-dah! Your lunch prep was made painless by including it in last night's dinner. Try making extra taco toppings for dinner and turn them into taco salads for the next day's lunch. A Few corn chips in a resealable baggie can be crumbled on top just before eating to create a satisfying crunch.
PUT A LID ON IT
If you don't already have a big stash of various-sized reusable containers, you'll want to stock up. Having both glass and plastic containers, as well as resealable bags means you'll have just the right sized container for everything from full dinners to individual-sized meals-that too will save you time!
REMEMBER…
There is no right way to meal prep. Whether you opt to prepare and freeze multiple slow-cooker meals in resealable bags to use later in the month, make lunches for several days at a time or anything in between, any meal preps you do before your week begins will save you time and stress later. Have fun with it! Once you get the hang of it, you'll wonder why you didn't start sooner.