Guacamole Chicken Salad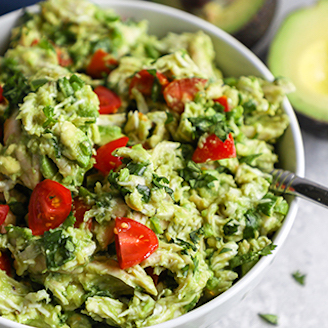 Recipe Detail
Ready In: 25 mins
Prep: 10 mins
Cook: 15 mins
Servings: 4
INGREDIENTS:
1 lb. Chicken tenders
2 lrg. Avocados, mashed
2 stalks Green onions, Sliced thin
1/2-1 Jalapeno, deseeded and minced
1/3 cup Grape tomatoes, chopped
2 Tbsp. Cilantro, chopped
2 Tbsp. Lime juice
Garlic salt, to taste
Side for dipping: Tortilla chips, flour tortillas, crackers
RECIPE DIRECTIONS:
Preheat your oven to 375°F and spray a baking dish with non-stick cooking spray. Then season your chicken tenders with salt & pepper and place them in the dish. Bake for 15 minutes or until cooked all the way through. Let the chicken tenders cool completely before shredding them. (You can also cut them into bite size pieces.)
Next, add your shredded chicken, mashed avocado and lime juice to a large bowl and stir. Then stir in the rest of your ingredients and season it with garlic salt to taste. Serve immediately with options listed above.