Pumpkin Macaroni & Cheese with Cheesy Panko Topping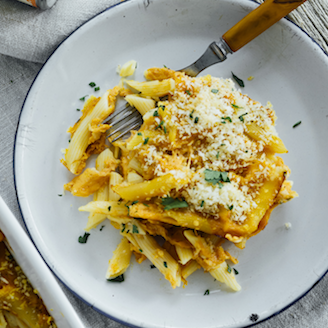 Recipe Detail
Ready In: 50 mins
Prep: 20 mins
Cook: 30 mins
Servings: 4-6
INGREDIENTS:
1 pkg. Sprouts Penne Rigate
1 Small, yellow onion
2 Tbsp. Butter
1/4 cup Sprouts Pumpkin Cider
1 can Sprouts Pumpkin
2 cups Milk
1 Tbsp. Rosemary
1 Tbsp. Sage
1 Tbsp. Dijon mustard
1 cup Cheddar cheese
1/2 cup Shredded mozzarella
1/2 cup Shredded provolone
3 Tbsp. Parmesan cheese
2 Tbsp. Extra-virgin olive oil
1/2 cup Panko breadcrumbs
Salt and pepper, to taste
RECIPE DIRECTIONS:
Cook penne according to packaging instructions. Drain and set aside.
Preheat oven to 350º. In a large saucepan over medium heat, melt butter and cook onion until translucent. Once the onion is translucent, deglaze the pan with Sprouts Pumpkin Cider. Add the pumpkin to the onion mixture and combine thoroughly. Whisk in milk, and stir until the mixture has thickened, about 5 minutes. Add rosemary, sage and mustard and stir until combined. Gradually add half of the cheddar cheese, mozzarella, provolone and 2 tablespoons of Parmesan until all cheese has melted.
Add the pasta to the cheese mixture and pour half into a large, glass 13x9â baking dish.
Top the first half of pasta mixture with the remaining cheese, then top with the remaining pasta mixture.
In a small skillet, heat olive oil over medium-low heat. Add panko. Reduce heat to low, and toast the panko for 2 minutes, stirring constantly to prevent the panko from burning. Cook panko until golden and fragrant. Remove panko from heat and set aside in a small bowl, and season with Parmesan, salt and pepper. Add the toppings to the top of the pasta.
Bake until sides are bubbling, approximately 30 minutes. Serve and enjoy!