Teriyaki Portobello Mushroom Jerky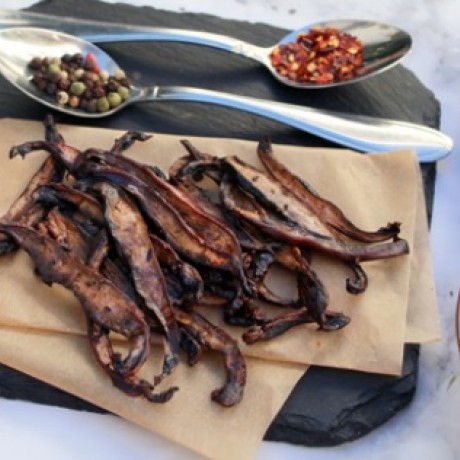 Recipe Detail
Ready In: 2 hours and 5 mins
Prep: 5 mins
Cook: 2 hours
Servings: 4
INGREDIENTS:
¼ cup Coconut Aminos
2 Tbsp. Apple Cider Vinegar
1 Tbsp. Agave Nectar
1 Tbsp. Olive Oil
1 tsp. Sesame Oil
1 Pinch Red Pepper Flakes
¼ tsp. Freshly Ground Black Pepper
3 Lg. Portobello
Mushroom Caps (about 4 oz each), sliced into ¼ inch strips
RECIPE DIRECTIONS:
Whisk together all ingredients except mushrooms. Transfer to a lidded container and add mushroom slices. Marinate overnight, or for 8 hours.
Preheat oven to 250°F. Line 2 baking sheets with parchment paper. Arrange the mushroom slices on the baking sheets so they're not touching each other.
Let mushroom slices cool completely before transferring to an airtight container. Refrigerate for up to 1 week.
Bake for 1 ½-2 hours, turning after 1 hour. Cook until slightly browned and dried out.